The town of Opa Locka Florida, described by wikipedia:

"The city was developed by Glenn Curtiss and was based on the Arabian nights theme with streets that have names like Sabur Lane, Sultan Avenue, Ali Baba Avenue, and Sesame Street. Opa-locka has the largest collection of Moorish architecture in the Western hemisphere.[2]

The name Opa-locka is a contraction of a Native American name for the area, "Opa-tisha-woka-locka", meaning "The high land north of the little river on which there is a camping place."[3]"

If anyone finds out or knows how Curtiss was interested in the Nights I would be very interested to find out too.

Unfortunately, according to the city's government website: "The City has experienced a sharp decline, become one of the most violent and poverty stricken communities in South Florida."

A list of street names I found include the following:

Fisherman Rd/St
Ali Baba Ave
Aladdin St
Sinbad Ave
Salih St
Sharazad Blvd
Ahmad St
Sesame St
Dunad Ave
Sharar Ave
Sabur Ln
Beder St
Jann Ave
Banu St
Bahman Ave
Oriental Blvd
Arabia Ave
Harem Ave
Kasim St
the following pictures are from the website:
http://www.agilitynut.com/deco/fl.html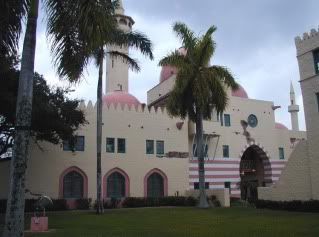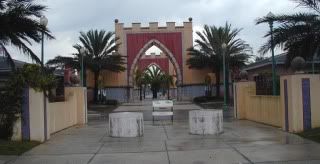 These pictures - I'm not sure of their copyright status - but if they're yours please let me know and I'll give you credit.


Video of a news story about how the city banned saggy pants (features some shots of the city's buildings):




And if you have any other pictures of the buildings or street signs in Opa Locka, please send!

For more information on the Arabian Nights and Opa Locka check out the following article as well:

Dream and Substance: Araby and the Planning of Opa-Locka
Author(s): Catherine Lynn
Source: The Journal of Decorative and Propaganda Arts, Vol. 23, Florida Theme Issue (1998),
pp. 163-189
Published by: Florida International University Board of Trustees on behalf of The Wolfsonian
-FIU
Stable URL: http://www.jstor.org/stable/1504168